Building an email list is a funneled process. You begin with collecting emails on your blog page and gradually convert the reader into a frequent reader or a customer.
The journey may be a bit lengthier compared to a sales page funnel. But it gives you the opportunity to definitively win your reader's trust.
In this guide, you'll learn the benefits of an email list and how to begin building one for your WordPress blog. Let's get started!
Why is it important to build an email list for your blog?
A lot of people out there believe email is old school. The common misconception is:
It is easier to reach out to your target audience via social media channels because people check their socials more frequently than emails.
That's 101% true. But it is of little value when it comes to marketing. Your target audience will see your post only once, and then it'll be lost in their feed. If you plan to DM them, they'll most likely get annoyed and block you.
Why? Well, because DMs are a space for connections, not sales.
Plus, you'll be investing 10x more effort, time, and money in attempts to reach your target audience via social media. You'll be focusing more on showing up in their feeds frequently, only so they can remember you and maybe convert.
On the contrary, email marketing has a solid, high ROI of $36 for each dollar you spend. In addition, there are about four billion active email users out there, and 99% of them check their email daily.
The cherry on top? About 23 percent of people check their emails within the first 24 hours of receiving them. This is particularly true for the B2B market. So, in terms of notifications and awareness, email marketing works more or less the same as social media — instant.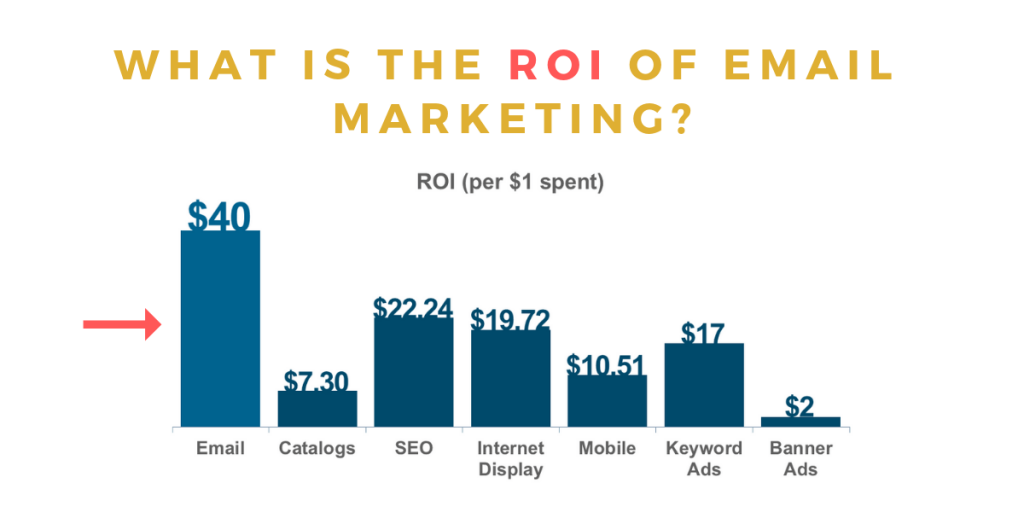 But there's more to email marketing than most people realize:
Emails stay longer with your target audience.
Emails are more personal. Your audience is likely to pay attention because you're talking directly to them.
Email marketing (especially when combined with storytelling) wins trust. When your audience consistently receives quality emails from you that provide value in their inbox, they'll trust you enough to go to the landing page you're recommending.
Email marketing saves you time and money in the long run by reducing the need for ads. You build permanent, progressive relationships with your clientele.
Unlike cold calls, you invest time in writing emails only once and send them to about a 100 subscribers with just one click.
Plus, email marketing is one of the most measurable marketing tactics. Using an email tracking tool, you can easily see:
How many people opened your email.
How many people took the action you wanted them to take after reading the email.
You can also assess what happened once they took the action you wanted (using bounce rates). If someone unsubscribes, you can see that too.
Using these useful metrics, you can improve your marketing campaigns to meet your goals effectively and accurately.
How to build an email list for your WordPress blog?
Okay, you see the point.
But how do you start building an email list for your WordPress blog?
It's simple. Create an opt-in form and allow your blog visitors to sign up for your email newsletters at will.
Pro tip: If you want to be successful at email marketing, never force your visitors to drop their emails. There's a lot of competition online, they'll simply go to another blog.
Now, what is an opt-in?
In the online world, opt-in refers to email consent forms that appear on websites. These can be in the form of a pop-up, in embedded form, or in a separate form altogether. They can also be placed on the top bar or on the side panel.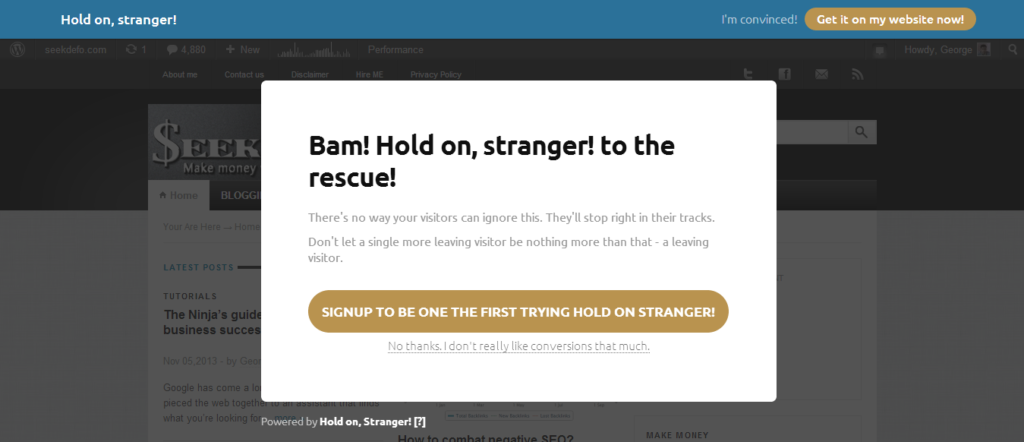 You can enable an opt-in on your website using a WordPress plugin like MailOptin. Follow this path on your WordPress dashboard:
Type MailOptin in the search bar
Click Search Plugins
Select MailOptin
Click Install
Click Activate
The same process can be applied to search and install any WordPress plugin.
In addition to a form plugin like MailOptin, you'll also need an email service provider. Some of the more popular ones include:
Sendinblue
HubSpot
Sumo
Mail Poet
Constant Contact
You need an email service provider because it will allow you to:
Monitor metrics
Deploy email marketing campaigns to the emails collected by the plugin
Segment your list
Conduct A/B testing
Setup email sequences
Once you have chosen an opt-in plugin and an email service provider, connect the two using an API key, which you'll acquire from your email service provider.
Let's say you chose MailOptin as your plugin and Sendinblue as your email service provider. This is how you'll integrate the two:
Create a free account on MailOptin & Sendinblue
Copy API v3 key from Sendinblue. You can get this by clicking on your name on the top right side of the screen and following this path SMTP & API > API Keys > Create a new API key > Generate (copy & save it somewhere) > Ok
Go to Connections in your MailOptin account
Go to Sendinblue connections and paste your API key
Save changes.
Next, create and publish the form! The process is more or less the same for other optin plugins and email service providers, and you'll have to look up the instructions for your particular combination online.
How to grow your email list to a good number and use it effectively?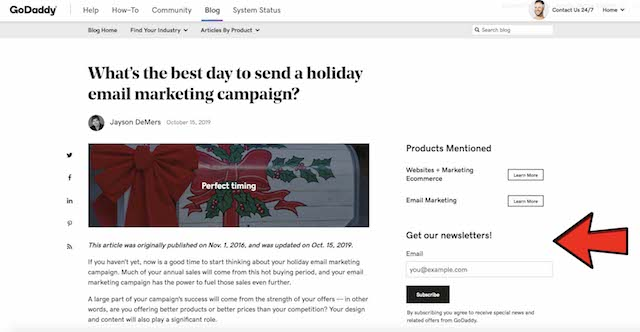 There are two things you must do to achieve this. First, you have to ensure your list is clean and contains only valid email addresses. You can do this by using an email verification tool.
Second, you have to be very careful, polite, and convincing with your opt-in copy. Let the user know about their benefit in this exchange.
But keep in mind that your copy might be of little use if you fail to pair it with the right opt-in format. Here are a few that work best:
Forms
Embedded opt-in forms are static opt-ins. They stay exactly where you place them, either at the top, bottom, or middle of the page.
Ideally, they should be in the middle of a blog post. This way, your reader will definitely come across it, and you will have a good opportunity to convince them to pay attention to it.
Best form plugins
There are several plugins to embed a form in your WordPress blog. However, the best form plugins are:
Typeform
Price: $300 – $996 per year
Pros
Easy-to-use interface
Includes logic jump feature to generate clutter-free, people-friendly forms
Cons
WPForms
Price: $39 – $299 per year
Pros
Best pre-made form templates
Complete step-by-step video tutorials to assist users
Cons
You cannot upload multiple files at once
Formidable Forms
Price: $39 – $299 per year
Pros
You can add calculation and pricing fields within forms without additional plugins
Allows multiple files uploads to forms
Cons
Requires some HTML & CSS knowledge
All three of these plugins are paid. But they're well worth it, especially if you've got a blog with how-to guides.
Pop-ups
Pop-ups are the most popular type of opt-in because they work for all. These are small-sized opaque or semi-opaque overlays on the screen.
You can place them such that they appear when the reader's about to leave the page. In this way, you re-engage the users and make a valuable exchange before they leave.
Best pop-up plugins
If a pop-up plugin offers a wide range of targeting and trigger options, know that it's one of the finest plugins out there. We find the following three to be the best:
MailOptin
Price: $89 – $399
Pros
Best usability and intuitiveness
Best customer support
Cons
Doesn't offer many features for big campaigns like A/B testing
OptinMonster
Price: $108 – $588
Pros
Offers floating bar, scroll trigger, and referrer detection
Offers A/B testing
Cons
Sumo List Builder
Price: Free – $948 per year
Pros
Can replace many WordPress plugins
Detailed settings and controls
Has a free version
Cons
You cannot remove their branding
Chatbots
Chatbot opt-ins work best for product-based blogs or multi–niche blogs. You can place them at the bottom of your blog posts.
When a visitor submits their email, they can choose the topic about which they'd like to stay updated.
In this way, chatbot opt-ins offer a highly personalized experience to your readers. Plus, it gives your visitors a sense of complete autonomy over what lands in their inboxes. They do not have to keep up with unwanted and irrelevant emails.
Best chatbot tools
When assessing chatbot tools, look for security, efficiency, and flexibility. According to us, the best chatbot opt-in tools are:
Zendesk
Pricing: $588 – $1188 per year
Pros
Best customer support
Offers feature-rich performance
Cons
Collect.chat
Pricing: Free – $825 per year
Pros
Has a free version
Easy setup and interface
A good amount of features in the free plan
Cons
Landbot.io
Pricing: $286 – $765 per year
Pros
Excellent templates
Good range of pre-built integrations
Cons
It can be difficult to understand controls initially
All three of them offer free trials, so you might want to try each and see what works the best for you.
Conclusion
There you have it — a straightforward way to build a WordPress list, three types of opt-ins, and the best tools for each. Remember, an opt-in is only as good as its ability to generate leads. So, make sure you use high-converting copy and design in your opt-ins.
About the author
David Campbell is a digital marketing specialist at Ramp Ventures. He helps manage the content marketing team at VoilaNorbert. When he's not working, he enjoys traveling and trying to learn Spanish.